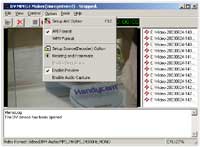 DV MPEG4 Maker
This download is no longer available
The program you want to download will be downloaded through the Getnow Downloader. Getnow Downloader is an executable Windows program that enables you to download computer programs, making the download process much faster and showing a progress bar.During the download process we show commercial offers such as SmartWeb, Youtube Video Downloader, Opera, WuuPC, AnySend and others, which can be skipped at any time during the install flow.
Learn more
.
GetNow Download doesn't have any relationship with the author of the program. The program can be downloaded as well freely from the
author's website
.
Quick specs
2.6.0
11 Feb 2006
Windows 98/Me,Windows NT,Windows 2000,Windows XP,Windows Server 2003,Windows Vista
DV MPEG4 Maker is a software tool that helps you create mpeg4/divx/avi/wmv/mov/psp/mpg(vcd)/mp4(quicktime) video clip files from your digital camcorder(1394 interface). DV MPEG4 Maker includes a simple video player to help you to play the video. The REAL-TIME recorder can directly record to divx/avi/wmv/mpg/mp4
format. It has a pause function. It features a long-time recorder,a real-time video capture system.It's high speed comes from it's being optimized by MMX assemble code. It is characterized by 'dynamic A/V synchronization' and Low level AVI file writer.