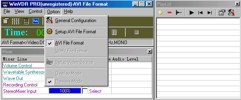 WinVDR PRO
This download is no longer available
The program you want to download will be downloaded through the Getnow Downloader. Getnow Downloader is an executable Windows program that enables you to download computer programs, making the download process much faster and showing a progress bar.During the download process we show commercial offers such as SmartWeb, Youtube Video Downloader, Opera, WuuPC, AnySend and others, which can be skipped at any time during the install flow.
Learn more
.
GetNow Download doesn't have any relationship with the author of the program. The program can be downloaded as well freely from the
author's website
.
Quick specs
3.7.0
15 Feb 2006
Windows 98/Me,Windows NT,Windows 2000,Windows XP,Windows Server 2003,Windows Vista
WinVDR(divx/wmv/mpg/mp4 vcr) is a software tool that helps you create Divx/AVI/WMV/MPG(VCD/SVCD)/MP4(Quicktime) video clip files from your video capture card(BT878/848 etc.) and your soundcard. WinVDR Pro includes a mixer to help you monitor audio input level. The REAL-TIME recorder can directly record to divx/wmv/mpg/mp4 format. It has a pause function. It features a simple and useful playlist, a long-time recorder,a real-time video capture system.It's high speed comes from it's being optimized by MMX assemble code. It is characterized by 'dynamic A/V synchronization' and Low level AVI file writer.

Real-Time Video Capture Recorder,Can Directly Record to divx/wmv/mpg/mp4 Video Format .
Use cublic filter for every frame of video stream,thus the video quality is highly improved.
Use MMX/SSE assemble code in kernel arithmetic,thus capture speed is highly improved.By testing,WinVDR can real-time capture MPEG4 A/Vstream in 384*288*25 FPS(PAL) in Pentium 550 CPU.
Use MPEG4 scheme,thus one CD can hold 180 minutes video clip with VCD quality.
WinVDR bypass AVI I/O API provide by Microsoft,thus capturing speed get more improved.
WinVDR use 'dynamic A/V synchronization' technology to completely solve the problem of A/V asynchronism. Long-time video capture cannot breoken the A/V synchronization.
You can adjust Audio Time Shifting relative to Video Time.
When capturing,automaticly prevent sceensaver,power manager from running.
Automatically produce divx/wmv/mpg/mp4 file name according to your system time.
Simple and Useful Playlist & Mixer Included.
Long-Time Recorder(limited by your harddisk)
Pause Function.
Audio Level Monitor.